Up The Duff by Kaz Cooke
Kaz Cooke gives you the up-to-date lowdown on pregnancy, birth and coping when you first get home. No bossy-boots rules, just lots of cartoons and the soundest, sanest, wittiest advice you'll ever get. Everything you need to know about the scary parts, the funny parts and your private parts.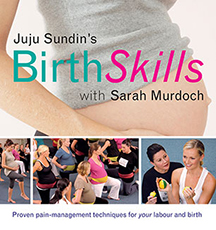 Birth Skills by Juju Sundin & Sarah Murdoch
In Birth Skills Class, obstetric physiotherapist Juju Sundin shares the techniques she has pioneered over her 30-year career, while Sarah Murdoch takes you on a personal journey of her own labour and birth, describing how she learned the skills in the class then applied them on the big day.
Baby Love by Robin Barker
With expert advice for the first twelve months of every baby's life and full of Robin Barker's wisdom and humour, this classic guide has been fully revised, including new material on car safety and updates on circumcision, safe sleeping and controlled crying.
75,000+ Baby Names for the 21st Century by Lori Cooper
This is the LARGEST collection of baby names available in Australia (and possibly the world!). Modern, traditional and global names are represented to give new parents a culturally diverse and imaginative range of baby names.
What to Expect When You're Expecting by Heidi Murkoff
This new-look fourth edition is the book for a new generation of expectant parents. Its up-to-date information reflects what's new in pregnancy and what's relevant to today's pregnant women.
Your Pregnancy Bible by Dr Anne Deans
Provides comprehensive, practical and reassuring advice on all aspects of pregnancy and early parenthood, from the antenatal care you'll need, to how to look after your newborn and your body after the birth.